Run Time Error in VisiLogic
Run Time Error can arises in most cases from windows or VisiLogic project error.
If the run time error occurs with specific application we highly recommned sending us the application and we will check it ASAP.
In many cases, reinstalling the software with the below instructions should solves this error.
The VisiLogic software was designed to run with full administrative privileges.
There are a few key points that may make the difference for a working installation.
For the installation, make sure that your PC`s UAC is off. (Only for Windows 7,8 and Vista, Windows XP does not have the UAC).
Please follow the below steps to delete the old version and reinstall :
· Backup your projects
· Erase the "Unitronics VisiLogic_C" folder from- C:\Program Files(x86)\Unitronics.
· Erase the "Unitronics" folder from- C:\Program Files(X86)\Common Files.
· Perform Windows update and restart the PC.
· Log-in with administrator rights.
· Turn off the PC`s UAC for the installation.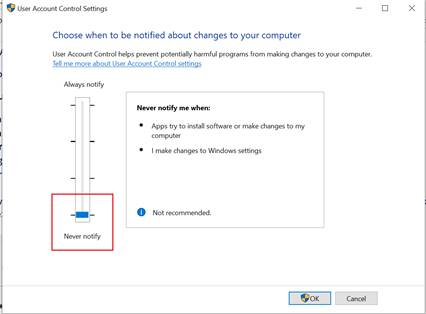 · Save the setup file on your desktop and make sure that the installation file is not blocked (Right click on the file>Properties) If yes, just click on the unblock button: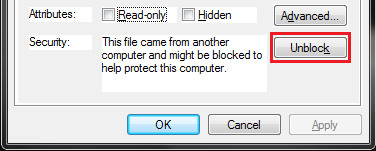 · Install VisiLogic, (the latest version form our website) you can find additional older version at our website.
· If software opened properly, Go to the properties of VisiLogic shortcut and under compatibility ticked verify the Privilege Level "Run this program as an administrator".