U90Ladder, VisiLogic, UniLogic sometime "loss" pop-up windows.
This will happen, if an external display being connected, and "lost" pop-up being open at external display.
Or this pop-up being eventually dragged out of display.
In this case pop-up window location will be restored by pressing sequence of keys.
Introduction:
In Windows, any Pop-up window have number of commands in drop-down menu, and number of shortcuts to activate commands.
Some commands are language dependent.
Commands menu can be activated by opening pop-up window and pressing ALT+SPACE.
To define, what is a letter to activate command, do next.
Open File Explorer and point at any file.
Press ALT+SPACE and you can see pop-up menu with available options:

This example is for English system language.
And we are interesting in Move window command.
Shortcut for this command is ALT+SPACE+M (for English).
For U90Ladder and VisiLogic it looks like next:

For UniLogic it looks similar: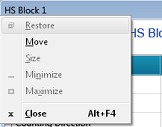 To restore pop-up window location:
1. Make U90Ladder, VisiLogic or UniLogic window active (active window is located up over oter windows).
2. Position mouse pointer in any display area and press ALT+SPACE+M (for English system language).
Mouse pointer will be changed to next one (or similar):

3. Press one time left or right arrow at keybord.
Mouse pointer changesto next one (or similar):

3. Press ENTER or click left mouse button.
Pop-up window will be fixed at last location.